Directions

FROM LAFAYETTE, LA: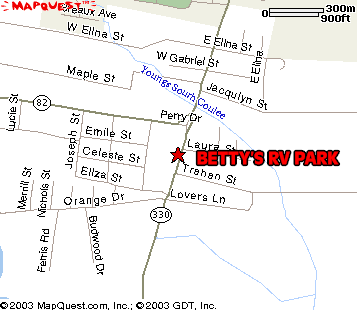 Take LA 167 South to Abbeville (about 18-20 miles). At Ray-Chevy Olds (on right) in Abbeville, turn LEFT on Hwy 14 East. Go 4/10 mi. to next light, turn RIGHT on State Street. Go about 2 miles South on State Street until you reach 2118 S. State. The RV Park is on the RIGHT!

FROM NEW IBERIA, LA:

On Hwy 90 at New Iberia, take the "Delcambre" exit and
turn left on Hwy 14 toward Delcambre, Erath and Abbeville. Go through Delcambre, the Erath Bypass and then into Abbeville. At South Airport Road (Hwy. 3267) in Abbeville, take a left and go till Jacqulyn Street (still Hwy 3267). You will turn RIGHT onto Jacqulyn, following it until it dead ends into South State Street. Take a LEFT on South State Street and continue straight down for about 2 blocks to 2118 S. State St. RV Park is on RIGHT!